From the Casebook
Public Resources
Teacher Resources
Contact Information
Oppenheimer, Leiwant, Schonberg, and Wheeler
Patt v. Donner: A Simulated Casefile for Learning Civil Procedure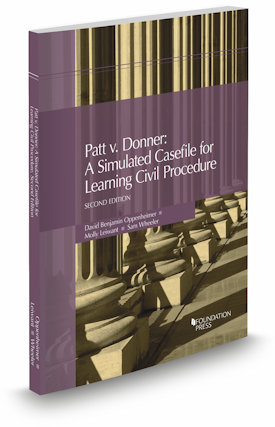 Our simulated casefile is intended to help civil procedure students put civil procedure in context. It allows them to meet the parties and help draft the pleadings as a simulated case unfolds, from the first day of the semester to the last. On day 1 students watch a fourteen-minute You Tube video of an initial client interview. Paula Patt, a newly arrived graduate student in anthropology at UC Berkeley has been denied an apartment; she suspects it is because she is a single mother. Over the course of the semester students participate in drafting her complaint and seeking a TRO; switch sides to help complete motions to dismiss for failure to state a claim and lack of personal jurisdiction; switch back to amend the complaint, move for a protective order, and oppose a motion to intervene filed by the local fair housing group; and conclude the term with jury voir dire and, in the final week, participation in a settlement negotiation.

Each pleading exercise provides the student with a largely completed pleading; all they need to do is draft a few key paragraphs. As a result, the exercises can be completed in an hour or so. Each illustrates, and makes real, the cases and rules we have been studying in class. Most are completed as homework, with students working in teams, and changing teammates for each assignment. But although the exercises do not take much time, they have become the heart of the course, with the entire semester re-organized to follow the case as it progresses through a (super-) rocket docket.

The opportunity to participate in drafting pleadings and otherwise participating in litigation simulations, and the videos that help make the parties feel like real people with real problems, keep the students engaged by the subject. Civil procedure is no longer a series of rules and principles to learn, it is a system for solving problems. And the problems themselves are real problems. The students have just gone through the hassle (or worse) of finding housing. Now they are working on a case where another new graduate student was denied an apartment, perhaps unlawfully. (And the apartment manager is also a grad student, easy to like and empathize with.) With the casefile at the heart of the course, now it is fun, and it feels real.